New Wave of interest for RV and Travel Trailers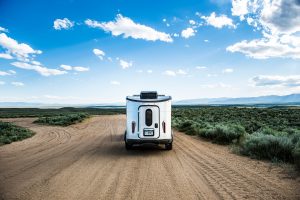 A renewed sense of enthusiasm is taking over the world of RV-ing. People are visiting all areas of the United States by traveling by RV or a travel trailer. Due to the COVID-19 virus, stir crazy and quarantined individuals are ready to hit the road.
People tend to cringe when they hear "2020" as it will forever be a reminder of the year that COVID-19 Emerged. The whole world was susceptible to contracting the virus and it kept people quarantined and confined to their homes for months on end. When it came time to getting some normalcy back, people of all ages were ready to travel.
Instead of going by air or train, the chosen mode of transportation for many has become RV or travel trailer enabling people to travel and work at the same time. According to gorving.com, 56% of campers expect to camp more because they are teleworking or the kids are distance learning. The entire family can escape COVID-19 hot spots or quarantine on the road and not miss a beat. The togetherness that everyone is craving can still be achieved by traveling  by RV or travel trailer and to explore and camp all over the U.S.
Along with the increased excitement over RV travel, the industry saw a change in demographics. Long gone are the days of the target market consisting of retirees selling their homes and buying an RV to travel into their golden years. More and more families and  the younger  generations are purchasing RVs and travel trailers. What is attracting this change? Some believe it is the new technology and amenities enticing the younger generations. Others think it is the new way of camping referred to as "glamping." Glamping is being able to experience tent life without giving up the necessities and amenities most people don't want to be without. Whatever it may be, RV-ing is becoming a popular option for all walks of life.
The abundance of first time owners of RVs and travel trailers creates a new set of issues. New owners may be inexperienced with RV travel, maintenance and general care of the vehicle. New owners may also be more easily distracted while on the road by utilizing all the technology. Either way, with the increase of RV owners on the move, there are many reasons to make sure people are aware of the options Classic offers for RV and travel trailer protection programs.
Classic offers multiple programs for RV and Travel Trailers including GAP, Response Road Hazard, and Paint & Fabric Protection. Choosing one of these Classic programs may help ease worries for new RV owners by knowing that if an unexpected loss or disruption happens, Classic will do their best to make the claims process as easy as driving down Route 66 so their journey can keep moving forward.